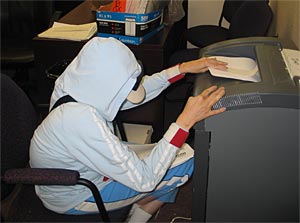 Matthew, Vera and Debbie provide on-site confidential data destruction services to Hands On Services, Inc.  located in Rocklin, CA. HOVRS, Inc (contracted to AT&T) provides local sign language interpreter services and nationwide live video interpreting for the hearing impaired.
Since 2003, HOVRS has contracted their janitorial service with STEP Vocational crews. This relationship has been so dynamic on so many levels—communication, interdependence, and financial stability—the connection is business to business synergy at it's best!
STEP, our employees and consumers use HOVRS relay services every day.