Aaron is a great example of why Supported Living is a critical living option.
History
Aaron has lived in many different environments over the years.  His Father died before he was born but he lived with his Mother for close to 10 years.  Aaron's Mother chose to discontinue his seizure medication causing a massive seizure leaving Aaron with further brain damage.  Aaron also carries the diagnoses of Autism and Deafness.
Soon after Aaron's seizure, his Mother placed him at Napa State Hospital at the tender age of 11.  Aaron was placed into an ICF/DD-H in his late teens but was then placed at Sonoma State Hospital after the facility closed.  Aaron later moved into Jean Martin Homes ICF/DD-H where he lived for about 5 years.
Aaron had a very negative reputation and boxes of behavioral documentation.  He was unhappy and expressed that often; a square peg being pushed into a round hole.  Aaron moved into a house with two peer roommates in 1996 and later into a house he owns through a special needs trust.  Aaron communicates through untraditional methods but it was clear this is a place he wanted to call "home".

Current
Aaron has blossomed into a focused, assertive man whose success has far exceeded most peoples' expectations, including his own.  Aaron uses a combination of Sign Language, gestures and pictures to communicate his wants and needs.  He has a devoted circle of support that includes support staff, his Uncle Randy, peers and long-time friends.  His home is decorated to his taste—there are themes of Disney, Coca-Cola, and Red, White and Blue.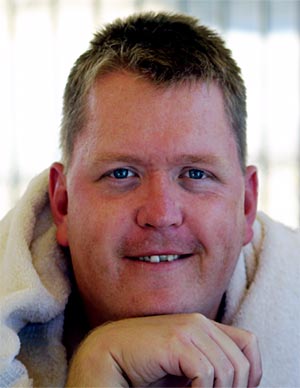 Aaron has a peer roommate and a live-in attendant that he is very happy with.  How do we know he is happy?  If he is not happy, he will buy U-haul boxes and leave them around the house.  Aaron loves to travel to Disneyland, Marine World and other close destinations.  He loves arts and crafts and has become quite a collector.  He works with the support of a Behavior Management Program at a Balloon Weight business.
Aaron now has a different reputation.  He is known as someone who holds people accountable and advocates for himself.  He is known as a loyal friend.  Aaron is known to throw a great BBQ.  He is known for living fully.  I think anyone would like to be known for these attributes!